Yes, to put it frankly.
As you know I'm a novice fashionista, and financially savvy "virgin." And when I see a good deal, I definitely go in for the Kill.
One of my new favorite stores, is of course, Charlotte Russe. Charlotte Russe has been around more than blank years, but there wasn't a lot of trendy items to choose from. But now I see their selection has changed drastically, and I fall in love with just about everything that I see in-store and online.
So what deals can I score today, you asked?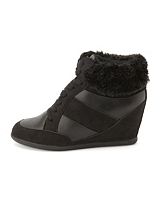 These shoes, along with a lot more, are on sale for less than $25.00, but what makes this deal even better are the coupon codes.
First, if you sign up to receive advertisements via mobile or e-mail, you will receive an automatic 10% off your first purchase.
Second, if you use code AFFINITY2012, you will s
ave $5 on your order of $35 at checkout + Free Shipping on $65+ order.
Third, you can use code GIMME, and save $10.00 off a $50.00 purchase and receive automatic shipping.
Also, most codes can be combined